Stallone is back!!!!!!!!!
The Expendables adalah proyek stallone yang menyatukan banyak sekali bintang laga dari taon 90 an en 2000an. Dengan jajaran casts nya yang mengkilap, alhasil film ini jadi must see movie di Jakarta 2 minggu terakhir.
Ceritanya seh ga usa dipikirin lah... Mudah ketebak dan cliche cliche cliche. Diceritakan ada sekolompok mercenary yang menamakan dirinya The Expendables. Dikepalai Barney Ross (Sylvester Stallone) dengan anak buah nya Christmas (Jason Statham), Ying Yang (Jet Li), Gunner Jensen (Dolph Lundgren), Toll Road (Randy Couture) dan Hale Caesars (Terry Crews). Suatu ketika, mereka diminta untuk membunuh seorang jendral di Pulau Vilena. Jenderal keji tersebut bekerja sama dengan seorang Amerika memperbudak hidup penduduk pulau tersebut. Dengan bantuan Sandra (Giselle Ltie), mereka berhasil masuk. Namun ketika Sandra tertinggal, Ross pun kembali untuk menyelamatkannya.
Sebuah cerita yang sudah berulang kali diulang tp tetep aja kita tonton. Well.... Buat yang protes kalo film ini ga ada ceritanya, ya emankkkkkk. Namanya aja film action, kalo mo nyari cerita ya ntn film drama kaleee. Menurut gw ini film bagus! Seru abis.. hahahaha
Diperlukan kerja otak kira2 0.5% untuk menonton film ini. Semua nya merupakan hal simpel en terkadang bodoh. Liat aja nama karakter2 nya, penting ga seh nama Toll Road???? Yahh toh yang kita liat kan tembak-tembakan serta ledakan ledakan ala Rambo nya :)
Yang paling gw suka disini adalah Jet Li!!! He's like the buffer of this movie. Ketika uda mulai too much action, he comes with some stupid yet funny dialogue that refreshes our mind. Of course yang paling menonjol di sini adalah Stallone (dan alisnya... geez.... ). Tapi Statham juga lumayan mendominasi. Man, that guy has a very strong screen presence.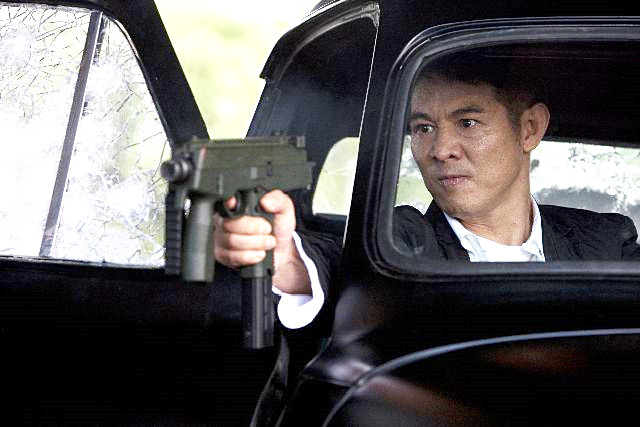 Overall, a testosterone movie which was very entertaining!
Verdict: Like a table at a Padang restaurant. U got urself spicy rendang, hot dendeng balado, crispy fried chicken and a lot more. Get em all coz they will rock ur palate!