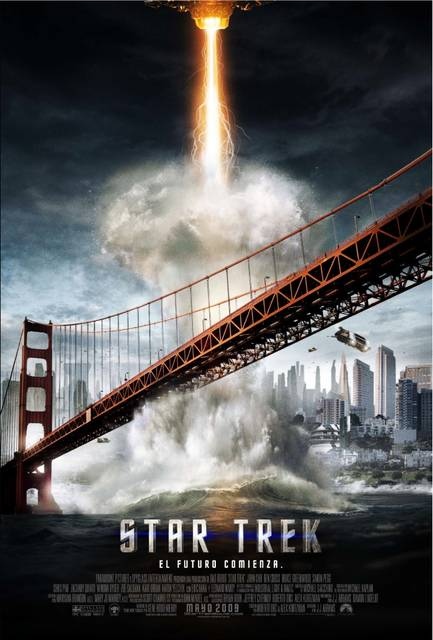 One word.... AWESOME!!!!!!!!!!!!!!!!!!!!
Sejujurnya, gw bukan maniac Star Trek... Well, emank seh gw ntn Star Trek : Next Generation yang ada si Patrick Stewart (Prof X di X Men) sebagai kapten nya trus ada si Data en bbrp tokoh laen nya yg gw rada lupa. Yah suka suka aja lah... After all, gigantic space ship with photon laser, every boy's dream rite? Jadi, pas diajak midnite, langsung aja gw iyain en hasil nya MEMUASKAN!
Cerita nya tentang James T Kirk (Chris Pine), anak seorang awak starfleet yang mengorbankan diri buat nyelametin crew kapal nya dengan nabrakin diri ke kapal musuh. Si Kirk ini tumbuh dewasa jadi anak bandel tapi jenius gtu deh.. Nah suatu kali dia diajak masuk ke Star Fleet Academy... Long story short, dia ktemu Spock (Zachary Quinto), half breed vulcan en human yang super jenius en logic abis. Mereka pun terlibat perselisihan karena perbedaan kepribadian nya....
Suatu hari, mereka dikirim untuk menyelidiki distres signal dari planet nya Spock.... Eh ga tau nya, planet nya Spock lagi diserang sama Romulan yang dulu ngebunuh bokap nya Kirk... Karena kapten nya ditawan sama Romulan, alhasil tu Enterprise (space ship nya mereka) terpaksa dipimpin sama mereka yang notabene masi muda...
Ditinjau dari segi kualitas acting, Chris Pine seh masi kurang banget menurut gw... Diperburuk dengan pretty face nya sehingga kesan bad boy nya kurang dapet en kaya ABG berat. Tapi yah secara ini film yang full action, jadi ga tralu berasa seh... Yang gw suka malah the rest of the cast. Zachary Quinto nya keren banget! Apa mungkin gara2 muka dia cocok ama kuping runcing ala vulcan itu ya? Trus si Sulu (John Cho) juga menarik. Mungkin gara2 uda di brainwash sama Harold and Kumar, jadi bawaan nya pas ngeliat si Cho pengen ketawa aja
Gw baru tau kalo Eric Bana maen jadi Nero, si kapten Romulan. Sumpe gw ngenalin pas ntn kmaren....
Plus points dari film ini adalah tidak adanya adegan yang sia sia dan membosankan. It has just the perfect amount of action, romance and comedy. Lalu special effect nya, yah.... No need to say lah... Keren abis!!! Sayang ga ada adegan perang perangan antara Enterprise en kapal musuh, pasti mantep abiss...
VERY VERY RECOMMENDED
Rating: 9/10
ps: gw masih bingung, kenapa seh kostum nya Starfleet Crew itu kaya baju senam.....